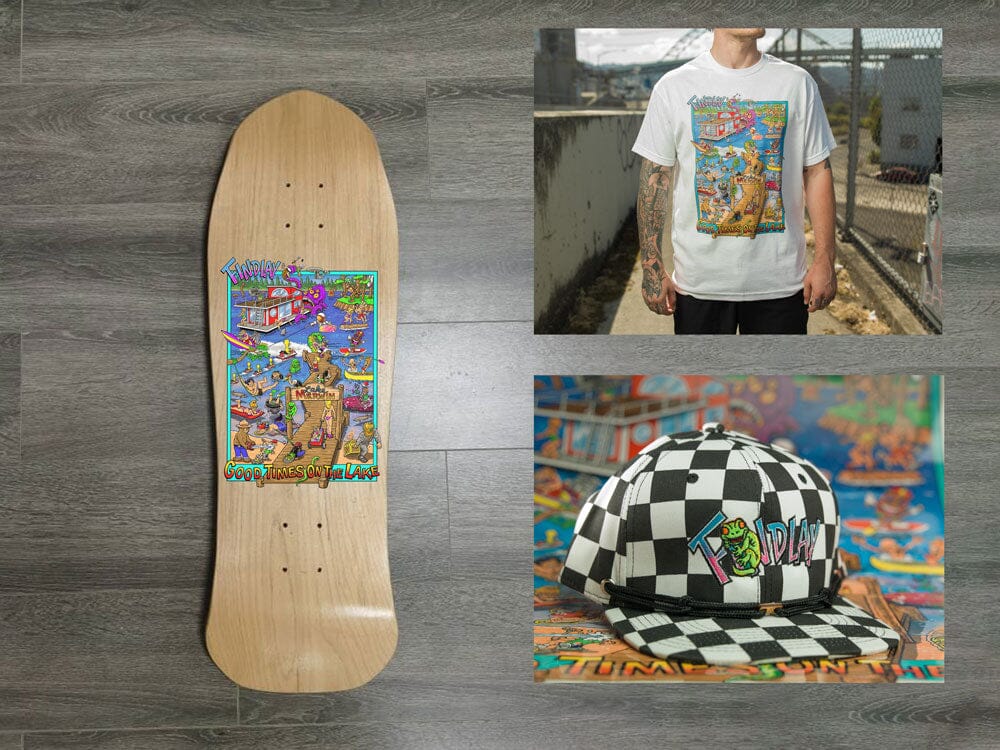 We called in a legend for this week's drop, Steve Nazar, the

 

original artist and creator of the classic T&C Surf Designs characters Thrilla Gorilla, Joe Cool and Da'Boys! Steve came through with an amazing "Good Time at the Lake" piece of artwork for us, so we had to get some of them onto our hats!
This pack contains the following.

1 Nazar Cham Text design on checkered Crown base (1 of 50)

1 Premium Collector Steve Nazar Old School deck.  (1 of 100) 
1 T-Shirt featuring the full design from Steve Nazar.
2 Mystery stickers from the 5 designs featured in tonight's drop.
3 Wood clips. (1 Monster acrylic, 1 Wakeboi wood, 1 Surfin' Tiki wood)
We only have one word for this box.... HOT DAMN THAT'S A GOOD BOX!
Shirt + Hat + extras will ship in 1-2 weeks.
Skateboard is a pre-order item and will ship separately, estimated in September. We will keep you updated with the status. 
Handmade & applied hidden stash pocket (Pocket style will vary)
Patented Stampede Lace
Embroidered in house
Custom laser-cut wood Clip
Crown Fit  

Snapback