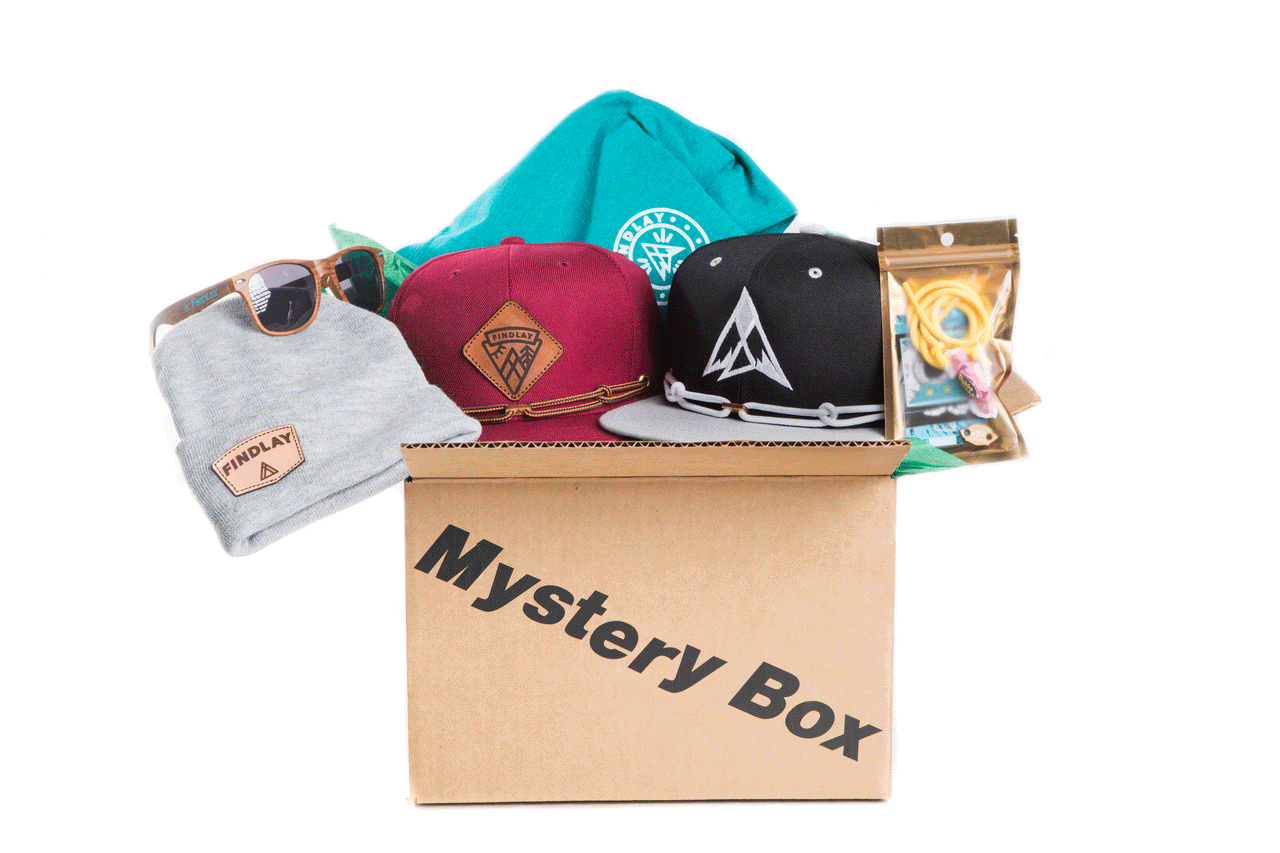 By far the best bang for your buck on our website. All mystery boxes come with a random assortment of Findlay products - including unreleased, limited edition, current & discontinued models. 
Up to $200 value - $120 off!
Each box is chosen at random and contains six randomly selected Findlay products. We do our best to include the best variety of colors, designs & styles to make a unique box.

All 6 items will include some, but not all, of the following -
2x Hats (2 hats guaranteed)

Beanie

Sun Cheaters

T-Shirt (Though we ask for your shirt size, a t-shirt is not guaranteed)
Coffee Mug
Pin
Key-chain

bandana

Koozie
Socks
Goodie Bag (3x stickers, 3x clips, 1x laces)
Bottle Opener

Stickers
No exchange policy. 
Due to the heavily discounted prices, free shipping, and the random nature of the selection, our free returns & exchange policy does not cover Mystery Boxes.

Are you picky?
We do our best to ensure a nice diverse set of products in each box - and we want you to be happy with your purchase! That said, if you are looking for a specific cap, your best bet is to purchase that specific hat!
Substitutions:
If there is an item in the box you know you will not have any use for, please mention that in the special notes section and our team will do our best to make sure to not include that item. Even with this note, you may still receive that item as inventory options for boxes is limited. 
Thank you for understanding and we are sure you will enjoy!
The photo & video demonstrate a sample of what could come in your mystery box - each box is different and contains an assortment of different items.
Customer Reviews
Write a Review
Ask a Question
Filter Reviews:
hats
mystery box
Findlay
items
Everything
products
guys
quality
beanie
sunglasses
08/23/2023
Tyler

United States
Killer mix in the mystery box
Awesome mix of items in the mystery box, great color ways on the hats, all in all an excellent company.
06/22/2023
TJ M.

United States
Another sicksterey box from Findlay.
Findlay is one of my favorite companies ever for so many reasons. The mystery boxes are the best way to get your feet wet with Findlay and get a sense of how cool all of their products are. These mystery boxes helped me learn the direction I wanted to take my collection in. Not to mention how exciting the anticipation is!
06/13/2023
Hailey H.

United States
This pack is the best you can get
The hats are lovely, made with care, and all around nice. The other goodies were very nice. My shipping updates were nice and the other videos of the progress of their shop is amazing. I love supporting businesses who are just starting to make their mark and hope they thrive.
05/20/2023
Stetson M.

United States
Beyond Expectations
Fast shipping, great packaging, and an amazing value. I had high hopes for this box and they were completely met. The moon reaper hat was one I already had my eye on and I was so pumped to see it in the box. The other hat was a limited edition not even listed on the site. The beanie and sunglasses were a great edition. My only gripe was the shirt. I love that it's plain and dark green, but I wish it fit a little better. Other than that small nitpick, this was an amazing experience and I can't wait to get more mystery boxes in the future.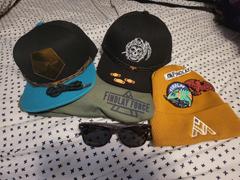 05/17/2023
christopher m.

United States
Solid
Great hats and shirts. My go to when ever I'm looking to grab something new